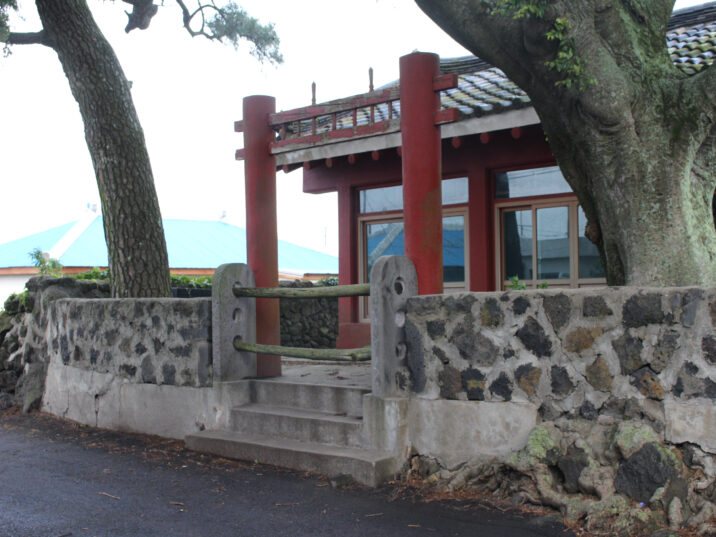 During the reign of King Suk-Jong, there was a man named Bak Gye-Gon who lived in Aewol Township. Though he hadn't studied writing much, he had a talent for it, and he was extremely loyal to his country, as well as being very devoted to his parents. When Mr. Bak heard that King Suk-Jong had died, he was so stricken with grief that he led thirty laborers up to the capital in order to help construct the royal tomb.
They built the tomb along with laborers from each of the other provinces, each group proudly composing and singing songs as they worked. The last verse of Bak Gye-Gon's song was "Better that the heavens take care of our departed king than watch over the labors of the people in mourning." The line was so beautiful that it surprised not only the laborers, but also the government officials who were there to hear it. They all wondered where the singer was from, and upon finding out that he was just a laborer from Jeju, they praised him all the more.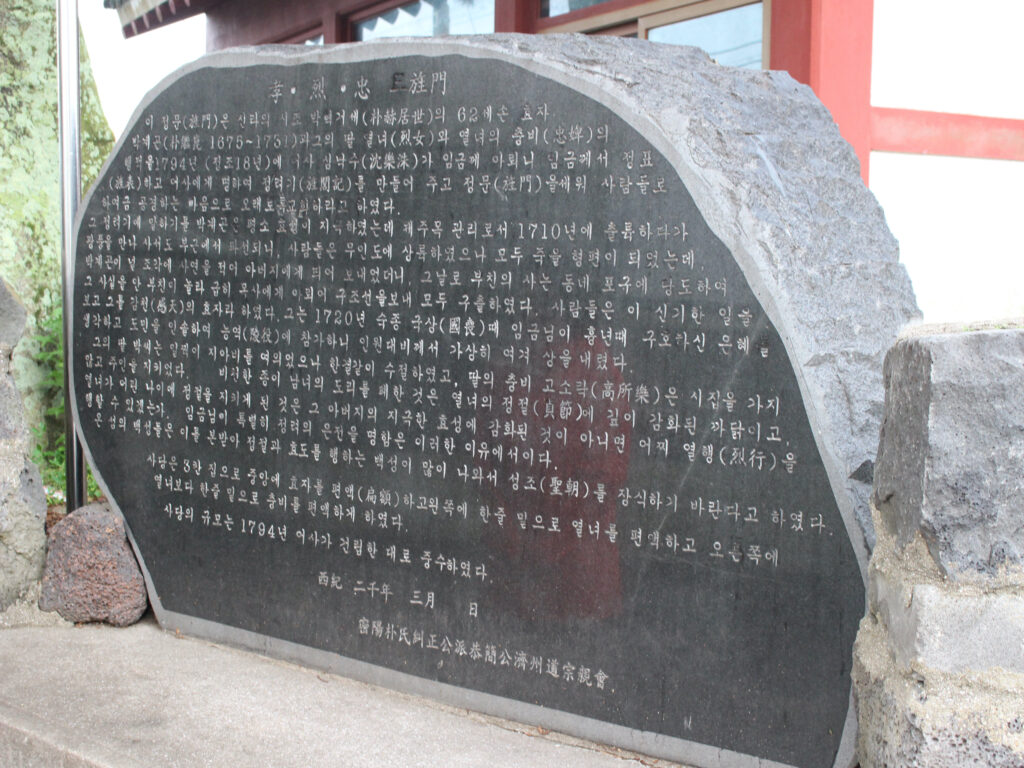 When the royal tomb was finished, Mr. Bak began the journey back home. Suddenly, at a place in the ocean where no islands could be seen, a strong wind began to blow. Mr. Bak's boat broke apart in the waves and he feared for his life. Resigning himself to his fate, he removed a piece of wood from the boat, cut his finger and wrote in blood "Lord, watch over me if you want to save my life." He tossed the piece of wood into the ocean. Then he threw himself into the water.
The piece of wood floated over to Jeju. Sometime after that, Mr. Bak's wife went to gather water at the shore, and when she filled her earthenware water jug, the piece of wood floated in with the water. Mr. Bak's wife learned of his death when she read the note, and informed his relatives of her husband's fate. Eventually, even the royal palace heard about these events and ordered a memorial gate to be built in honor of 'Loyal and Devoted Bak Gye-Gon'. That memorial gate is in Sineom Village.
---
As recounted on July 28, 1959, by Mr. Jang Eung-Seon of Aewol-ri.
From 99 Legends of Jeju Island, a compilation based on the work of Professor Hyun Yong-Joon.
---
Aewol Township : Aewol-myeon : 애월면
Bak Gye-Gon : 박계곤 : 朴繼崑
Earthenware water jugs
Sources of drinking water were scarce in Jeju, and women had to fetch water from springs, some of which were right next to the ocean. The earthenware water jugs used in Jeju were called heobeok : 허벅.
King Suk-Jong : 숙종: 肅宗 reigned from 1674 to 1720 during the Joseon Dynasty.
Memorial gate
The gate is called Chunghyo Bak-ssi Jeongmun : 충효 박씨 정문 : 忠孝朴氏旌門 and can still be visited today.
Sineom Village : Sineom-ri : 신엄리 : 新嚴里