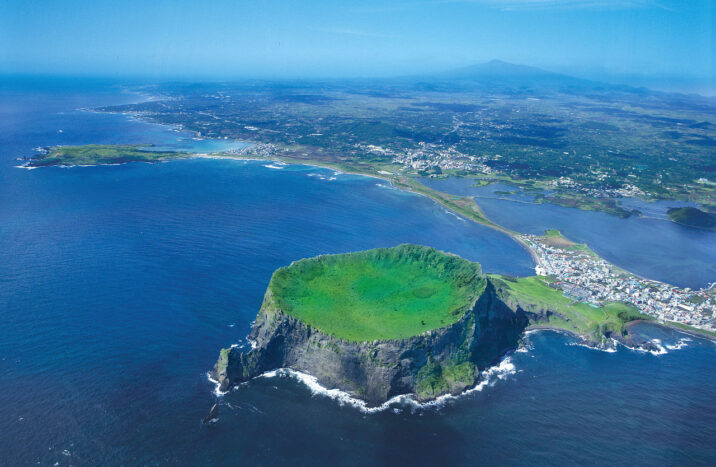 Photo: Korea.net
On the coast of Seongsan Village, there is a mountain consisting of a single huge, rocky peak that soars out of the ocean. It is called Seongsan Sunrise Peak (Seongsan Ilchulbong) because it sits at the easternmost point of Jeju Island. The name Seongsan means Fortress Mountain, and was given this name because of its appearance. It looks very much like a huge, natural castle. It was listed centuries ago among the Ten Sights of Yeongju as an ideal place from which to watch the sunrise. Yeongju is one of the former names of Jeju.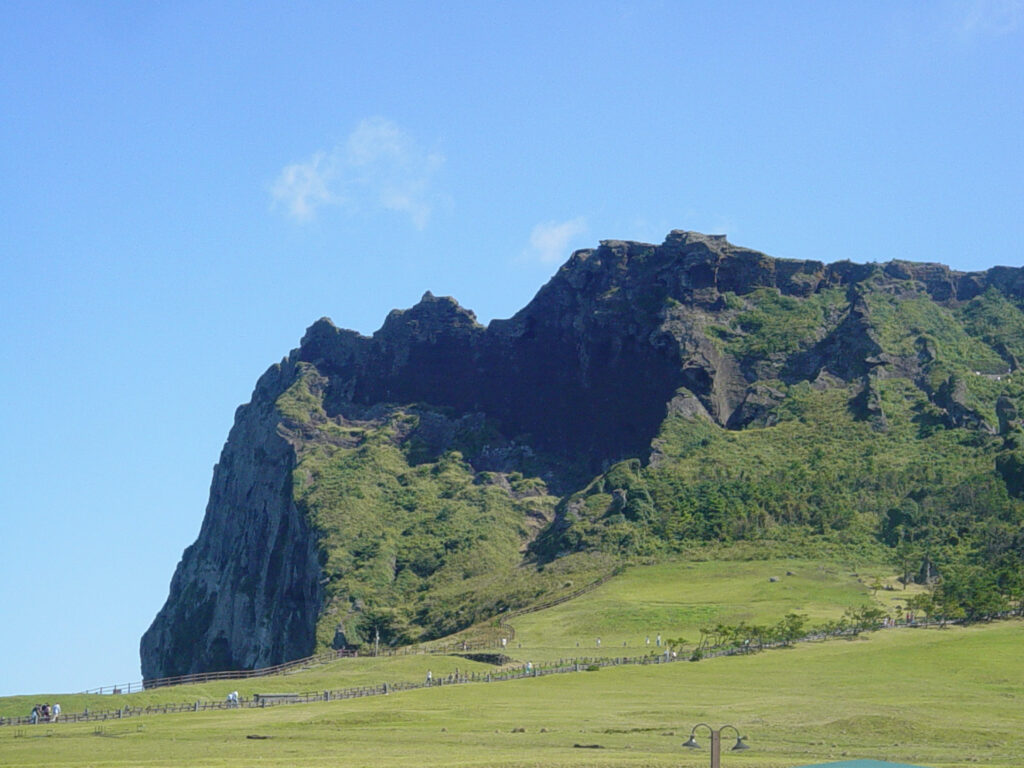 Seongsan Sunrise Peak rises straight up out of the ocean; the sides of the mountain appear to have been chopped off, leaving sheer, rugged cliffs. There is a large crater at the top that is surrounded by numerous rocky peaks with fantastic shapes. It is said that there are exactly ninety-nine such peaks, and that if there had been one more, lions, tigers and other such ferocious animals would now be living on the island. Since in fact there is one less than one hundred peaks, no such animals are to be found on Jeju.

---
Based on the account given on February 28, 1975, by the mother of Mr. Kim Mun-Ha of Goseong-ri.
From 99 Legends of Jeju, a compilation based on the work of Professor Hyun Yong-Joon.

---
Seongsan Sunrise Peak : Seongsan Ilchulbong : 성산일출봉 : 城山日出峯
The 'seong' in Seongsan : 성산: 城山 means castle or fortress. San means mountain.
Yeongju
Yeongju (영주: 瀛洲) is one of the former names of Jeju, meaning Home of the Gods. The Ten Sights of Yeongju (Yeongjusipgyeong: 영주십경: 瀛州十景) is a list of the places most worth visiting in Jeju. Several lists have been compiled, with the earliest dating back several centuries.